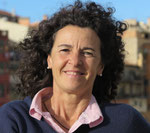 Born in Barcelona in 1966. At the start of 1981, I have achieved an extremely high professional level in the hairdressing world. My natural inquisitiveness to learn enabled me to get to know many of the fields that require the hairdressing.
Currently I am working predominantly with private clients in the comfort of their own home, to give the very best professional service I can to them individually completely at their own leisure and at their comfort. 
At the same time I am currently freelance for TV3 Television de Catalunya.
Compelled to learn yet another aspect of the industry, I ended up working in a top-end hairdressing salon in England in the early 90s.